Famous for its quirkiness and also known as the Jewish Quarter, the Marais has cobblestone pavements and narrow streets lined with boutiques that are filled with tourists at the weekends. Situated in the 3rd and 4th arrondissement, its also a great place if you fancy a bit of shopping, or even just to sit in one of the terraces with a coffee and watch the world go by.
Place de Vosges, Place de Vosges, 75004
A really lovely spot in the heart of Paris to take a moment to relax. I went there on a Saturday afternoon when the weather was amazing and warm, so obviously it was quite a lot busier. But considering it is a beautiful little park in the middle of one of the hot spots in Paris, there really weren't that many people flocking to Place de Vosges.
Amorino, 1 Rue des Francs Bourgeois, 75004 / 4 Rue de Buci, 75006
The best ice cream in Paris, on a hot day in the Marais nothing is nicer than going to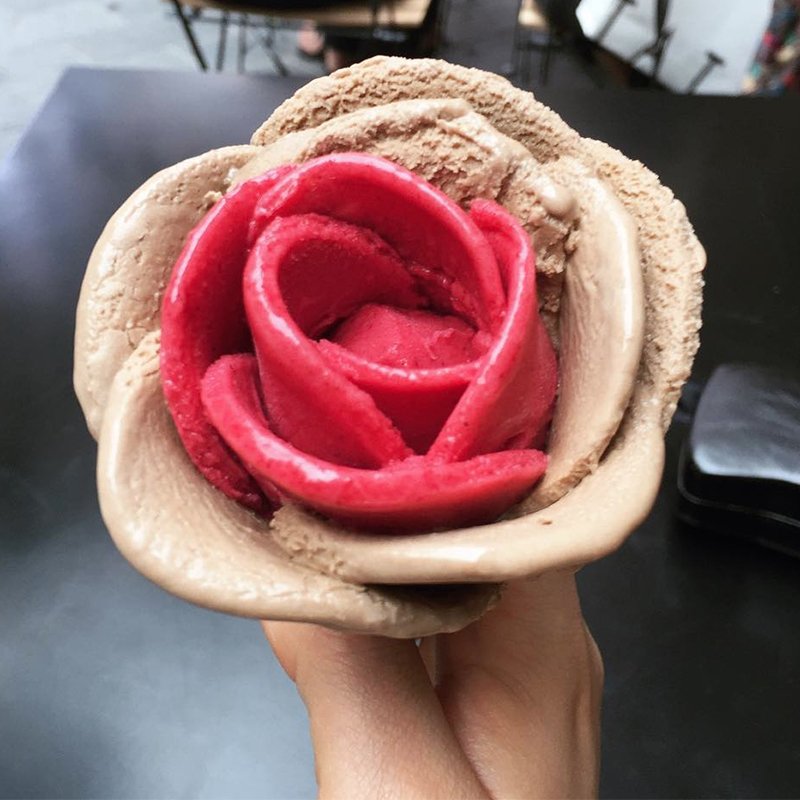 Amorino for a "glace" and wandering over to sit by the fountain in Place de Vosges. Italian gelato specialists, with flavours from pistachio to dulce de leche and with no artificial flavourings or colours, they're also famous for creating pretty roses out of the ice cream flavours you choose. (I've also been to the shop in Odéon where there are less queues than the one in the Marais).
Image by topsy.fr
L'as du Falafel, 32 Rue des Rosiers, 75004
This place is closed on a Saturday, but if you're planning on going at lunchtime on a Sunday, give yourself at least half an hour waiting time. The queues of people craving the falafel from here go all the way down the street. So delicious, now I know why people call it the best falafel in Paris. 
The metro station is St Paul. If you wonder towards the Hotel de Ville area and cross the Seine, you'll find the Notre Dame Cathedral and lots of cafes, restaurants and bars (now heading into the Latin Quarter territory). This is an absolute must on the Paris To-Do list!